Guru Parampara

Shri Puttige mutt is one among the ashta mutts, it derives its name from the place where its main branch is located in a village called Puttige, Hiriyadka taluk,Udupi, Karnataka. The Swarna river flows very close to the mutt, it is surrounded by lush green paddy fields and forest, making it serene picturesque, a visual treat for the eyes and tranquillity for the mind. Shri Madhwacharya anointed Sri Upendra tirtha as the first pontiff of this mutt.
Shri Madhvacharya blessed him by gifting main deities Sri Vitthala with Rukmini and Satyabhama. Vitthala murthy has a smiling face, conch in one hand, and other hand with abhaya mudra on the waist. As per Madhwavijaya once when ShriMadhwacharya and his disciples had partaken in Uttara Badri tirtha yatra for the second time, they had to cross the river Ganga and reach the other side of the river bank, the troops of the ruling Muslim king tried to stop and arrest them, however HH ShriMadhwacharya spoke to the king and explained him the God who is ruling them is the same God who is also protecting him and his disciples, the king was impressed with the valour, knowledge and the personality of ShriMadhwacharya and offered half of his kingdom and chief of his army as a ministership, Shrimadhwacharya gracefully declined stating he and his disciples are sanyasis and had renounced all worldly things and only interested in the service of Lord. Hearing it the king let Shrimadhwacharya and his disciples continue their tirtha yatra further. Whilst, returning in midst of the forest a bunch of bandits and dacoits started attacking the Shrimadhwacharya's disciples, it was then Shri Upendra tirtha who fought courageously and drove them away, all the disciples returned safely back to Udupi.
Shri Upendra tirtha
Shri Kavindra tirtha
Shri Hamsendra tirtha
Shri Yadavendra tirtha
Shri Dharanidhara tirtha
Shri Damodara tirtha
Shri Raghunatha tirtha
Shri Srivatsanka tirtha
Shri Gopinatha tirtha
Shri Ranganatha tirtha
Shri Lokanatha tirtha
Shri Ramanatha tirtha
Shri Srivallabha tirtha
Shri Srinivasa tirtha
Shri Srinidhi tirtha
Shri Gunanidhi tirtha
Shri Anandanidhi tirtha
Shri Taponidhi tirtha
Shri Yadavendra tirtha
Shri Kavindra tirtha
Shri Raghavendra tirtha: He laid the steps to present madhva teerta sarovara Udupi Krishna mutt.
Shri Vibudhendra tirtha
Shri Surendra tirtha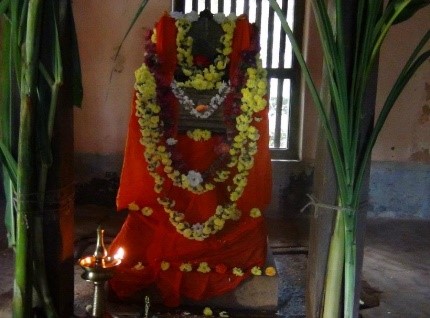 Shri Bhuvanendra tirtha:
His brindavana is located at Teerthahalli, Shivamogga district, Karnataka. He had done Sudha mangala twelve times during those times to several scores of students. He was the vidyaguru of several yatis like Vidhyadheesa tirtharu of Krishnapura mutt, Yogindra tirtha of Puttige mutt, Rajendra tirtha. His scholarly knowledge had got Puttige mutt jahageer at Teerthahalli. His disciple Rajendra tirtha left the abode before him so he anointed Yogindra tirtha as the successor to the peeta.
Shri Yogindra tirtha
Shri Sumatindra tirtha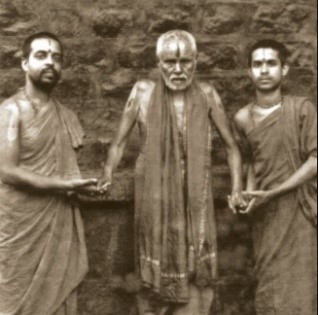 Shri Sudhindra tirtha :
Shri Sudhindra tirtha was the 27th pontiff in the lineage of Shri Puttige mutt, he was born in 1856 (Nala nama samvatsara, Phalguna Shukla Ekadashi, Makha nakshatra) near to the riverbank of Shambhavi, Hejamadi village, he was the 8th child of the couple Ranganatha Bhattaru and Mahalkashmi, his father was a priest(archaka) in the Mahalingeshwara temple of the village, hailing from Bharadwaja gotra , Yaju shaka. His poorvashranama name was GopalaKrishna. As per the tradition after upanayana (sacred thread ceremony) Gopalakrishna was sent to Vidyadheesha tirtha of Krishnapur mutt for education, who trained him and eventually was anointed as pontiff of Puttige mutt, he went onto reign the Vedanta throne for almost eight decades and had completed four paryayas, so the ashta mutt yatis conferred him a title as ''Yatikula chakravarthi". He had renovated the Anateshwara temple and Krishna mutt during his time. It is believed that he has chanted shatkoti(6 crore) times Shri Krishna nama japa. Once HH ShriVidyamanya tirtha said it was due to Shri Sudhindra tirtha ShriKrishna nama initiation done during his poorvasharama fetched him an opportunity to touch and worship Lord Udupi Shri Krishna. HH Vishwesha tirtha of Pejawara mutt after completing whilst being trained under Shri Vidyamanya tirtha he used to offer all the learning of Sudha pata and samarpana to Sudhindra tirtha. HH Sudhindra tirtha lived a long life of 101 years, even during his ripe age and his last day of his presence on this mortal planet, he never lacked zeal in performing daily rituals (nitya anushtana), Shri Krishna nama japa and the services of the Lord Udupi Krishna, left his mortal body on fullmoon day of Phalguna masa 1957 (Durmukhi nama samvatsara, Phalguna Pournami). His brindavana is in Udupi Krishna mutt (near to the ashwata katte) first row, second brindavana.
Sri Sujnanendra tirtha
Shri Sugunendra tirtha (present pontiff)
Shri Sushreendra tirtha (junior pontiff)